Welcome to Ovia! By now, you've selected a goal: cycle tracking, trying to conceive, or managing menopause. If you ever need to change you goal, just head to your profile and toggle to the one that's the best fit for you. Here are some tips to help you get started as you familiarize yourself with your Ovia app.
Your Ovia guide
The parts of the Ovia app you don't want to miss.
Entering your data into Ovia does more than just mark it on a calendar: it tells a story about your health. Ovia uses the data you log to improve your cycle projections, send you personalized feedback, and deliver relevant tips and content to your timeline. Logging your period, symptoms, mood, cervical fluid, sleep, activity, and more will help you learn about your health. Plus, if you're trying to conceive or using Ovia to help avoid pregnancy, you'll see fertile window projections.
To log some data, just click on the "+" icon at the top of your timeline to enter each day's info. If you forget, you can always go back in your calendar to add data. You can even customize the tracking categories on your data log page by tapping the "Settings" icon.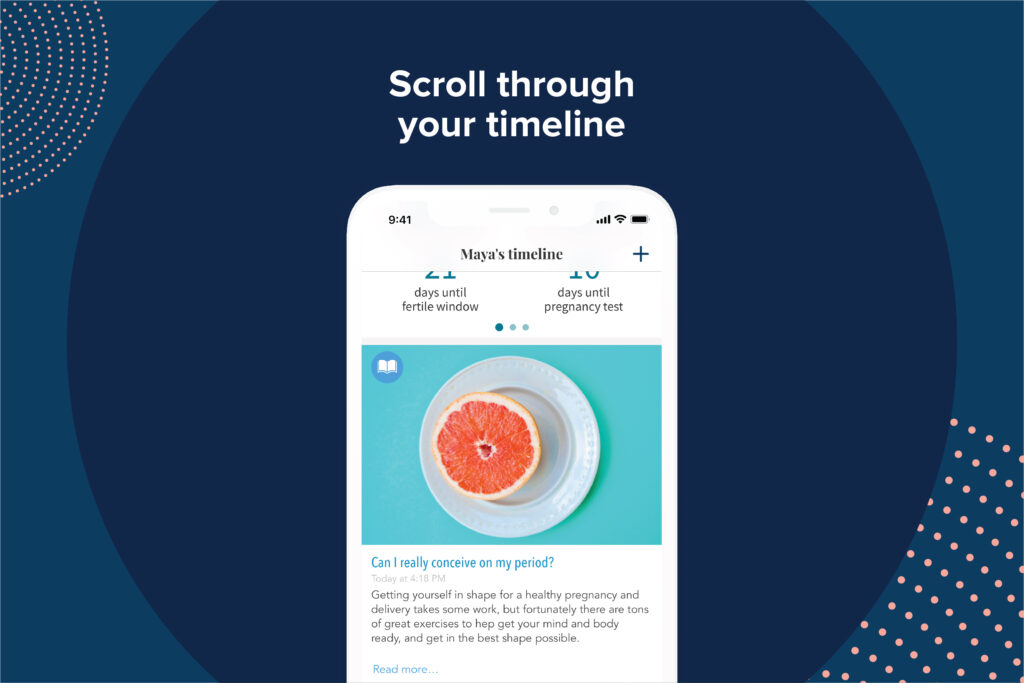 Get to know Ovia by exploring your timeline every day! You'll see a selection of articles, tips, fun facts, and information based on the data you log. Your timeline is completely personalized to you and based on your health profile, your data entry, and your current cycle stage, so make sure to take a look every day.
In addition to the content delivered to your timeline every day, you can find hundreds of articles under your "more" menu. Browse through the relevant categories to learn something new. Ovia articles are written and reviewed by experts, and you can always find the sources referenced at the bottom of the article.
Tap on the bubble icon in your bottom bar menu to open Community. This is a place for you to ask and answer questions anonymously with other Ovia members in a safe, supportive environment. To get the most relevant answers, target your questions to specific groups of people. For example, you could send your question about IVF only with other members who are around your age, in your state, and using assisted reproductive technology.
In the Community section, you'll also see questions from MyQ, which is Ovia's way of getting to know you a little better and updating your profile.
Now that you've read most of your Ovia guide, take a look in the "more" menu to see all the other resources and tools available in your Ovia app (health charts, a Daily self-care checklist, and more). And if you haven't already, make sure to take the health assessment to unlock new content and features.
There's so much to do! Ready to get started? First thing's first: let's log some data.