Page 1 of 8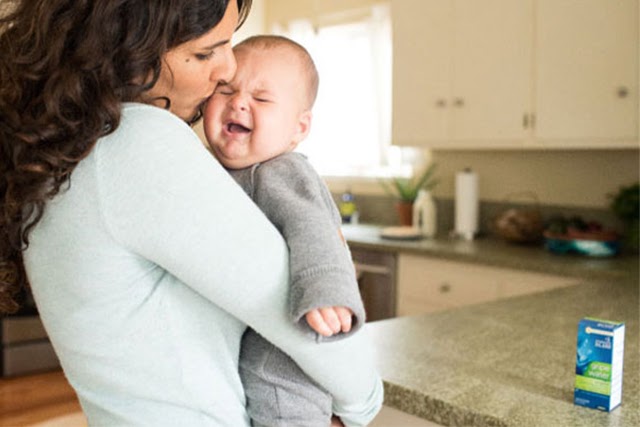 Suggested ad (Mommy's Bliss)
Slideshow: Fussy baby solutions
No parenting toolkit is complete without a handful of ways to combat your baby's tummy troubles or tender gums. Learn how to tame fussiness and keep your bundle comfortable and at-ease.
Swipe to start!
Page 2 of 8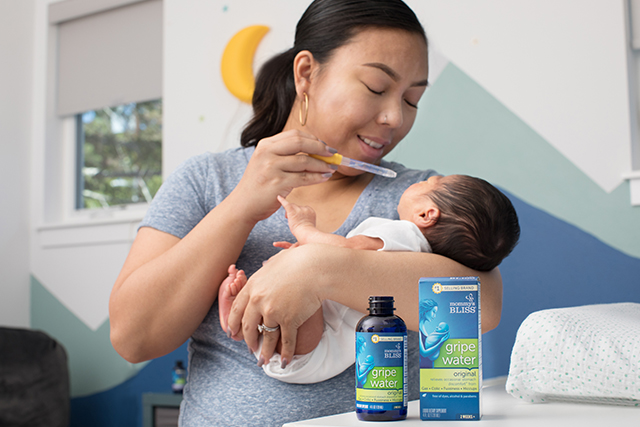 Soothe your sweetheart's gas or colic
Gripe water is one of the oldest known methods for soothing infant gas, colic, and stomach discomfort. It's a safe and gentle herbal supplement that can calm a baby's stomach.
Mommy's Bliss Gripe Water
is the #1 selling supplement for infant gas and colic symptom relief. Unlike other gripe water formulas, Mommy's Bliss is made with organic ginger, fennel, and is free of dyes, alcohol, and parabens.
Page 3 of 8
How does it work?
Gripe water may be administered orally by a syringe, dropper, or directly via an empty bottle after a feeding. Adults can also use Mommy's Bliss Gripe Water for gas, upset stomachs, and even hangovers!*
Page 4 of 8
Get that gas out of there
Gas relief drops decrease the surface tension of gas bubbles, causing them to combine into larger bubbles in the stomach that can be passed more easily. This helps babies pass gas quickly and feel relief from that full, bloated feeling.
Mommy's Bliss Gas Relief Drops
are a fast and safe simethicone-based remedy that breaks up gas bubbles in your baby's tummy to provide gentle, effective relief.
Page 5 of 8
Bye-bye tummy troubles
Mommy's Bliss Gas Relief Drops
are safe enough to use after every feeding when used as directed. They can even be combined with
Mommy's Bliss Gripe Water
when a baby is feeling especially uncomfortable and upset.
Page 6 of 8
Sweetly soothe tender gums
When your little one's gums are sore, you're going to hear all about it. Giving them a gentle rub can provide some relief, especially when you add
Mommy's Bliss Organic Gum Massage Gel
. It contains organic chamomile and vanilla for a sweet, soothing experience that babies love.
Page 7 of 8
Safe and organic
Mommy's Bliss Organic Gum Massage Gel
is formulated with organic herbal extracts—with no unwanted alcohol, numbing ingredients, or belladonna. You get one tube for daytime and another for at night that includes added organic lemon balm and passionflower.
Page 8 of 8
Your fussiness relief kit
When your baby doesn't feel right, nothing feels right. This trio of infant soothers from
Mommy's Bliss
can get you both back to smiles and cuddles. Tap below to fill your toolkit with these gentle and effective products, so you'll be well-prepared the next time fussiness strikes.
This ad is brought to you by Mommy's Bliss