Page 1 of 7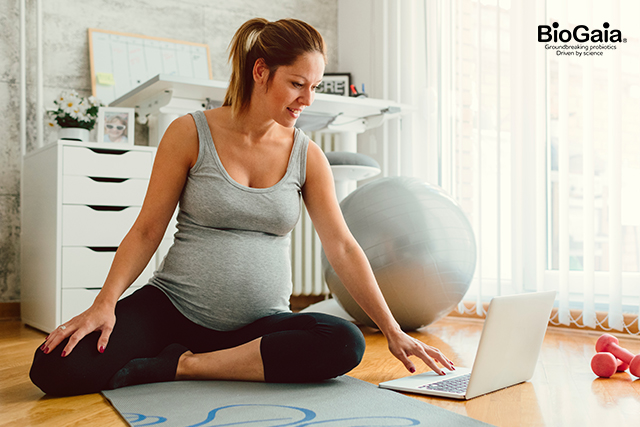 Suggested ad (BioGaia)
Slideshow: A healthy start for baby
Our bodies are home to trillions of bacteria that are absolutely essential to our health — from digestion to immunity to mental health. To thrive, babies must assemble their own inner ecosystem and the best place to start is with you.
Swipe to learn more
Page 2 of 7
Building your baby's microbiota
From birth to your very first cuddles, nature has a cleverly designed plan to seed babies with the healthy bacteria they need. Let's take a look at how babies acquire their microbiota during and after birth.
Page 3 of 7
During birth
During delivery, you provide your baby with beneficial bacteria. The majority of it comes from vaginal birth and your first skin-to-skin contact. The birth environment — whether in-hospital or at home — also plays a role in seeding your newborn baby's fledgling microbiota.
Page 4 of 7
After birth
As you settle into life together, everything from your breast milk or baby formula to your snuggles and nuzzles will continue to transfer beneficial bacteria to your little one. Siblings, other family members, and even family pets also contribute to your baby's developing microbiota.
Page 5 of 7
The maternal microbiota
Having a healthy maternal microbiota is beneficial for you and your baby. That's why it is important to nourish your microbiota during pregnancy, so you can transfer healthy bacteria to your baby. Just like folic acid and DHA supplements, prenatal probiotics can also promote baby's healthy development.
Page 6 of 7
Supporting mum's microbiota
That's why BioGaia created Protectis MUM — a prenatal probiotic. By strengthening and reinforcing the maternal microbiota, Protectis MUM promotes a healthy pregnancy & baby.* Naturally found in breast milk, MUM is the only prenatal to contain L. reuteri Protectis, a proven probiotic that is safe for mom and baby*
Page 7 of 7
Good for you, good for your baby
Protectis MUM is a prenatal probiotic that supports baby's developing digestive and immune systems while promoting mom's GI and immune health.* It's something truly beneficial that you can begin sharing with your baby now.
*These statements have not been evaluated by the Food and Drug Administration. This product is not intended to diagnose, treat, cure, or prevent any disease.
Statements regarding dietary supplements have not been evaluated by the FDA and are not intended to diagnose, treat, cure, or prevent any disease or health condition.
This ad is brought to you by BioGaia