Slide 1 of 6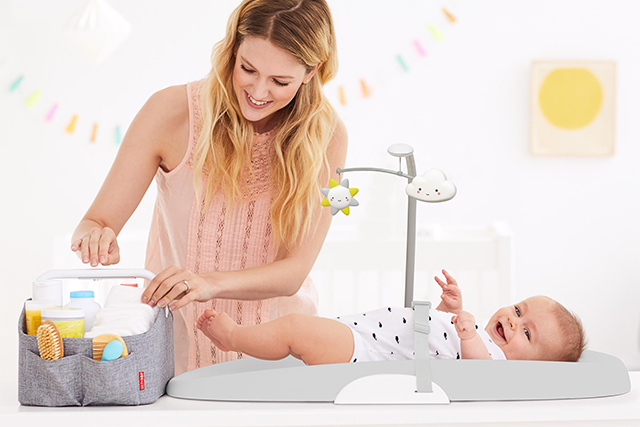 Suggested ad (Skip Hop)
Slideshow: These baby gear extras make all the difference
As you build your baby registry, you may be realizing that you're going to need a lot of stuff. Get the most out of your wish list by prioritizing gear that multi-tasks, grows with baby, and goes the extra mile — like the brilliant products from Skip Hop on the next slides.
Swipe to take a look!
Slide 2 of 6
A seat above the rest
Skip Hop's
Sit-To-Step High Chair is loaded with features to make mealtime easier. Its wipe-clean surfaces make clean-up a breeze, and you can pull it right up to the table to encourage bonding at family meals. Plus, the chair converts to a kitchen helper once your baby reaches toddlerhood and easily folds to save space.
Slide 3 of 6
A whale of a tub
"I love how it has the sturdy sling for support, so my hands are free for washing baby. The storage hook is also super handy." – real parent review
Skip Hop's
whale-shaped Moby Tub is designed to grow with your baby through three stages thanks to the convertible Smart Sling™, which lends support until your little one masters sitting.
Slide 4 of 6
A bright idea for late-night diaper changes
No more groping around for diapers and wipes in the dark.
Skip Hop's
Light Up Diaper Caddy features a touch-activated light in the handle to illuminate the necessities without bothering sleep-bleary eyes. Plus, it's easy to carry from room to room and blends beautifully with any decor.
Slide 5 of 6
The ultimate night owl
"We bought this for our son as an infant and used it as a nightlight and for white noise. He fell in love with it, and we still use it every night after four years." – real parent review
This sweet soother features a dimmable night light and your choice of eight gentle melodies and calming nature sounds. Best of all, it projects a starry nightscape onto any surface to help induce sweet dreams.
Slide 6 of 6
Game-changing gear
Skip Hop's
award-winning baby gear includes all the essentials — made better. Thanks to innovative features and grow-with-baby designs, they make life with little ones easier (and more fun!) for everyone. Tap below to explore even more clever solutions for new parents. First-time shoppers get 10% off with code MADEBETTER3.
This ad is brought to you by Skip Hop