Suggested ad (Baby Brezza)
Has a well-meaning person ever advised you to "sleep when your baby sleeps?" You may have laughed at such a farfetched concept. According to recent research, new parents lose the equivalent of 44 days of sleep in the year following birth. That means, on average, many are getting just five hours a night.
Even without accounting for all the wake-ups and interruptions, five hours is not nearly enough. You probably won't feel refreshed without at least six undisrupted hours of shut-eye. But what's even more alarming about the research? Many parents continue to sleep poorly for up to six years after their first child is born. Yikes!
What's a new parent to do?
Lousy sleep can continue to be a problem for years. So, developing good habits from the get-go is essential. However, to get your baby to sleep, you need to figure out how to soothe them. If this sounds like a tall order, we've got good news. These genius sleep solutions from Baby Brezza can save you a whole lot of trial and error.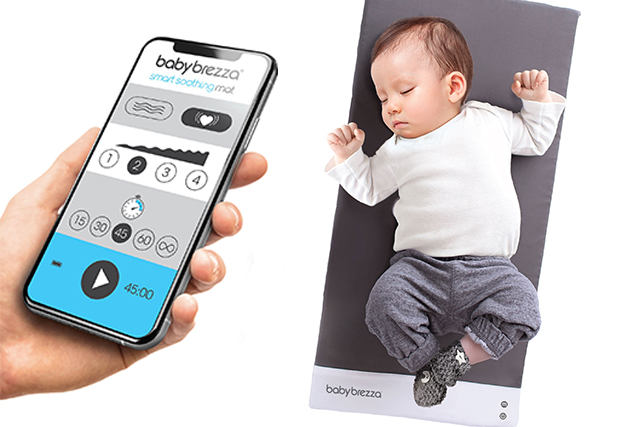 The smart mat with womb-like soothing power
The Baby Brezza Smart Soothing Mat is the first mat that mimics the sounds and motions of the womb. During pregnancy, the movement of the amniotic fluid, your heartbeat, and even your digestive sounds comfort your baby. This mat recreates that cozy environment, activating your baby's natural calming reflexes. You can place it on any sleep surface — like a crib, bassinet, pack 'n play, or activity mat — to encourage your baby to sleep safely on their back. And with the FREE app, you can operate the mat from your phone, choosing from multiple vibration, heartbeat, and timer settings.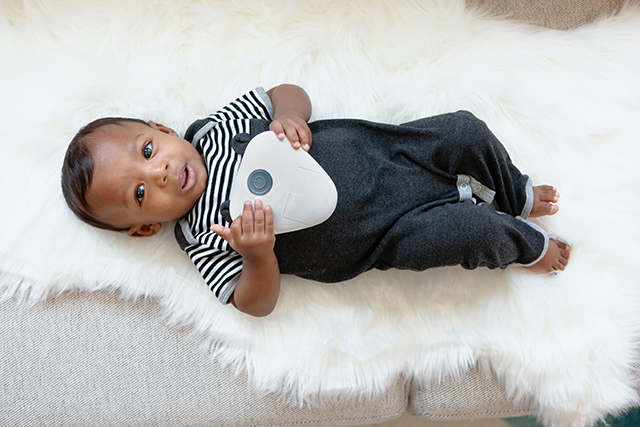 The first-ever baby massager that soothes your baby anytime, anywhere
The Baby Brezza Baby Soothe™ Massager helps relieve gas and fussiness with the time-tested power of massage. Parents have used infant massage to soothe their babies for centuries, as it activates their natural calming reflex. Baby Soothe uses three rotating massagers to mimic a soothing fingertip massage. The gentle pressure helps calm babies and alleviate tummy discomfort. Plus, it attaches to your baby's belly, is super lightweight, and can go wherever you go.
The safe and secure sleep swaddle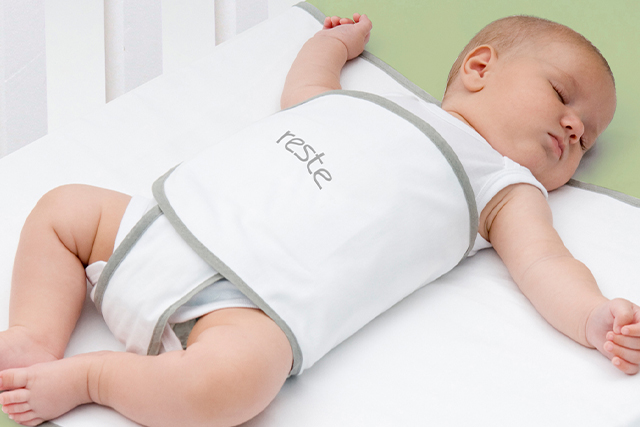 You want your baby to sleep safely on their back, per the AAP (American Academy of Pediatrics) "Back to Sleep" recommendations. But this is easier said than done. Especially when they start to roll over around month three. The Baby Brezza Safe Sleep Swaddle comfortably and safely secures your tiny tot on their back, reducing the risk of rolling over. You can easily fasten it to a crib mattress with velcro. Plus, it works great in conjunction with a crib wedge to reduce reflux.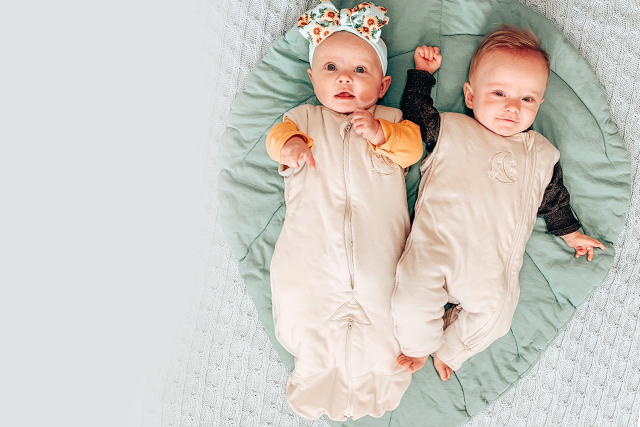 The all-star swaddle transition sleepsuits
Your baby loves being swaddled. But what happens when you can't use a swaddle anymore because they start rolling over around three months? Well, Baby Brezza's new 2 in 1 and 3 in 1 Swaddle Transition Sleepsuits are the perfect way to transition your baby from the swaddle, muffle the startle reflex, and help them sleep better.
Both sleepsuits provide your baby with the cozy, secure feeling of being hugged all night long. Unlike other sleepsuits, they have mesh panels along the legs and sides, helping your baby stay cool and comfortable while they sleep. Best of all, they're convertible, too. The 2 in 1 converts easily into a sleep vest by removing the sleeves, and the 3 in 1 converts into a sleep vest or wearable blanket by zipping up the legs.
Soothing solutions inspired by science
Baby Brezza's products are inspired by the ways infants are naturally soothed to sleep — by activating their natural calming reflexes. They're designed to mimic the calming and relaxing environment of the womb, helping your baby sleep soundly so you can finally get the rest you crave.
This ad is brought to you by Baby Brezza
---
Sources
1. https://www.ergoflex.co.uk/blog/category/sleep-research/a_life_in_sleep_how_sleep_plays_out_over_a_lifetime
2. https://www.sciencedaily.com/releases/2019/02/190225192116.htm
3. https://www.aap.org/en-us/advocacy-and-policy/aap-health-initiatives/7-great-achievements/Pages/Reducing-Sudden-Infant-Death-with-Back-to-.aspx