The new normal: Exploring the lasting impacts of COVID on delivery trends, parenting and mental health
From a rise in c-sections to shorter hospital stays and more emotional distress, COVID-19 is changing pregnancy, delivery, and early parenthood. Here's what we can do.
Over the last year, COVID-19 changed everything, including the experience of pregnancy, birth, and early parenthood. New mothers faced unprecedented challenges, from restrictions on visitors and support staff during hospital births, to the isolation of caring for an infant during quarantine, and the struggle of managing childcare and work in a world turned upside down. In order to better understand the scope of COVID-19's impact on delivery trends and maternal outcomes, and to illuminate these impacts for our community and the scientific community, we took a look at Ovia Health's data.
Ovia is a digital family health platform that helps people navigate reproductive health, pregnancy, and parenting from the palms of their hands. Our diverse members are representative of the US population, and thousands of them complete birth reports and health assessments each month. These data give us a unique view into pregnancy, birth, and maternal wellbeing trends.
What the numbers tell us about pregnancy, birth and delivery trends during the pandemic
Using anonymous data from 415,125 births in 2019 and 2020, we created two cohorts for comparison: pre-COVID (for births between October 2019 and March 2020) and during-COVID (for births between April 2020 and September 2020).
Our research study, Changes in Delivery Outcomes During the COVID-19 Pandemic as Reported in a Pregnancy Mobile App, was peer-reviewed and presented at the American College of Obstetricians and Gynecologists (ACOG) annual conference in April 2021. Most importantly, it uncovered trends in birth outcomes that everyone in the healthcare community and beyond had been wondering throughout the pandemic.
Most notably, compared to mothers who delivered pre-COVID, mothers who delivered during COVID:
Were significantly more likely to deliver by Cesarean section
Had hospital stays that were, on average, 8.2% shorter
Were significantly more likely to choose a home birth
Were significantly less likely to deliver preterm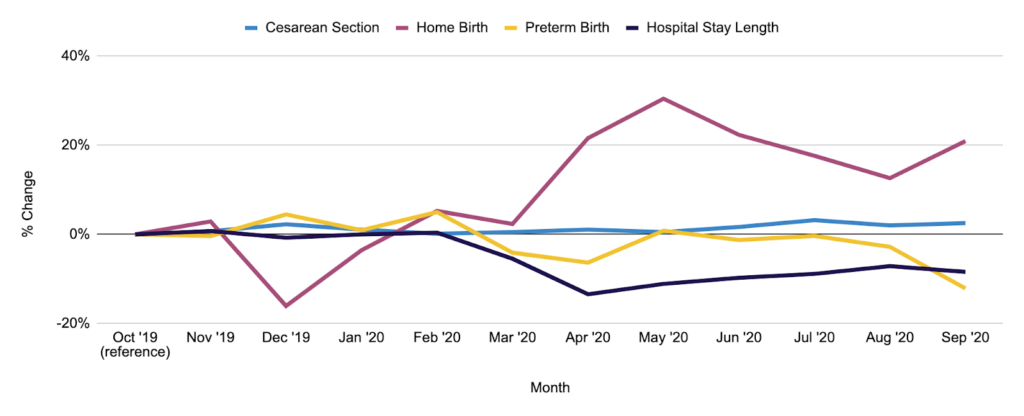 "Our study offers insight into the stresses and strains the pandemic has put on pregnant mothers, new parents, and babies—as well as our healthcare system," said Danielle Bradley, MS, MPH, Ovia's Director of Clinical Evidence and Services. "We found a significant rise in c-sections, which can raise health risks for mothers, as well as healthcare costs. And, at the same time that mothers experienced more medical interventions, their hospital stays grew shorter. It'll be important to track whether hospital length of stay bounces back to pre-COVID lengths, and if there are any lasting impacts on women who didn't receive the typical length of post-birth care in the hospital."
The rise in women choosing home births is another of these delivery trends worth following. Mothers may have felt that staying home was safer during COVID-19, but the risks of home birth are substantial—including a two-fold increase in the perinatal death rate.1 Ovia will continue to track this trend as well, and provide guidance to our community about how to decide where to deliver, keeping health risk and safety top of mind.
"We were also interested to see a decrease in preterm births during COVID-19, which is a good thing," adds Bradley. "We'll look more deeply into why preterm numbers went down—with the hopes that we can learn how to add strategies to Ovia's existing preterm prevention programs once the pandemic is behind us."
New data reveals the emotional toll of COVID-19 on mothers
In a separate study, Ovia looked at the mental health impacts of COVID-19 on new mothers. Even before the pandemic, we were in the midst of a maternal mental health crisis—more than 60% of perinatal mental health issues go undiagnosed and untreated.
Our new study showed that COVID-19 has deepened the distress—and first-time mothers, BIPOC (Black, Indigenous, and people of color) mothers, and mothers between 35-39 have been hit the hardest.
The study compared nearly 18,000 pre-pandemic and during-pandemic responses to the Edinburgh Postnatal Depression Scale (EPDS). We tracked an 8% increase in mild-to-moderate postnatal distress or depression, and a 7.5% increase in moderate-to-severe depression overall.
Among first-time mothers, the numbers were higher—we found a 12% rise in mild-to-moderate symptoms and an 11% rise in moderate-to-severe symptoms.
BIPOC mothers also showed higher distress levels than the overall average, with a 10% jump in moderate-to-severe depression, and an alarming 26% increase in reports of suicidal ideation. The most significant increases occurred among Black mothers.
"As we know, there are deep racial disparities in maternal outcomes. In this study, we see that COVID-19 has widened the gap even more, with BIPOC mothers bearing some of the heaviest burdens of parenting during the pandemic," explains Bradley. "It's an urgent wake-up call. We must do more to bring support and resources to the parents and communities that are suffering right now."
Ovia's findings on delivery trends, maternal outcomes, and postnatal depression during COVID-19 are early indicators of how deeply the pandemic has changed parenthood. Each of these changes is likely to have long-term impacts on parents, children, and the workforce.
Standing by employees in a COVID — and post-COVID — world
The strains of pregnancy, birth, and motherhood during COVID-19 have contributed to another trend—the re-shaping of the American workforce. More than 2.3 million women have left their jobs since February 2020, sending us back to workforce participation levels we haven't seen since 1986.2 As of last September, one in four women were still considering leaving the workforce or downshifting their careers because of COVID-19.3
"For companies looking to support and retain parents, and to ease the burnout that's set in with COVID-19, employers need to step up," says Bradley. "From immediate relief, like flexible work schedules, to longer-view plans, including more support across the parenting journey—there's so much we can do to even a playing field that's become even more unfair during this pandemic."
How Ovia Health supports every parenting journey and new delivery trends
Ovia's digital family health platform helps support and retain employees during their parenting journeys, while delivering a clear ROI for employers. Ovia offers 1:1 coaching and personalized care to reduce costly adverse outcomes, including unnecessary fertility treatments, preterm deliveries and NICU stays, and c-section rates. Ovia also increases employee retention, breastfeeding initiation, and vaccine adherence for infants.
Ovia is also here to see parents through the uncertainties of COVID-19, whether we're helping with everyday concerns about prenatal care, mental health, and childcare, or addressing urgent issues, such as delivery trends or the safety of the COVID-19 vaccine during pregnancy (see our recent interview with Jessica Malaty Rivera, Science Communication Lead for the COVID Tracking Project, for the latest).
To discover more about Ovia Health, please visit www.oviahealth.com.
---
1 The American College of Obstetricians and Gynecologists: https://www.acog.org/clinical/clinical-guidance/committee-opinion/articles/2017/04/planned-home-birth (accessed April 2021).
2 National Women's Law Center: https://nwlc.org/resources/january-jobs-day-2021/ (accessed April 2021).
3 McKinsey & Company and LeanIn.org: https://wiw-report.s3.amazonaws.com/Women_in_the_Workplace_2020.pdf (accessed April 2021).